Vulcania celebrates its 20th anniversary!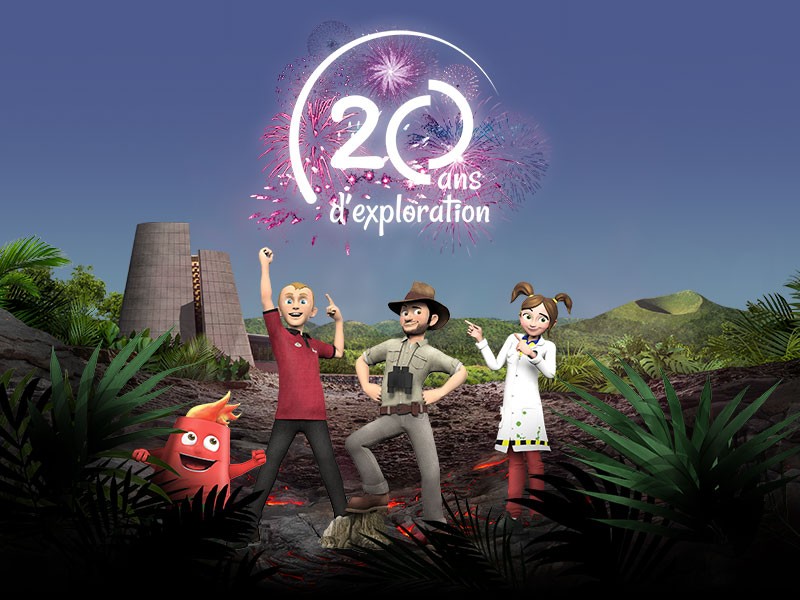 An exclusive schedule waits for you all along the 2022 season with outside and night shows, special events...
Spring weekends: Every weekend and public holiday until June 26, Matt the Explorer and Pr Yapadrisk will welcome you at your arrival and try to recruit you into their respective teams. If Matt does not lack arguments, Pr Yapadrisk could convince you with the show Expériences, c'est Show!
Summer holidays: Shows will be in the spotlight at Vulcania from July 4 to August 26 with the Défis des sciences (Science Challenges) – Mission Volcans (Volcanoes) and Mission Espace (Space) – as well as Expériences, c'est Show! and Yapadrisk and la Flamme des Volcans. Vulcania's anniversary nights will set the park ablaze with 12 exceptional evenings ending with the magnificent Dragon Time pyrotechnic show.
Fall holidays: To end the season, Vulcania will offer two special weeks A la recherche des Légendes perdues (in search of Lost Legends) during the school holidays (October 22 to November 6) and November 11 to 13. Young visitors will be expected to come and tame the anger of the dragons, face the evil Halloween witch and thus obtain their dragon rider diploma.
> Find out more about the 20th anniversary schedule